Marriage is the best, and I am so happy to have such sweet memories of the day that it all began. Today marks 10 months of marriage, and I am celebrating with the beginning of our wedding day story. Part 1: Getting Ready. 
It was July 1, 2012, and I was mentally prepared for the Houston heat. Texas suffered a drought the summer before, so a rain storm was not really a concern initially. But God knew what he was doing, and he sent us a rainy weekend. Back at our home in Nashville, it was 108 degrees on our wedding day. In Jeremy's Atlanta hometown, it was 106. But in notoriously hot Houston, it was 85 and cloudy. Thank you, Jesus.
A family at our church has the most picturesque private chapel that we had the privilege of using for our wedding, and adjacent to the chapel is a quaint cottage that looks like it was plucked right out of a Jane Austen novel where my bridesmaids and I got ready for the day. Two hairdressers met us there that morning, and we spent the day relaxing, laughing and primping. Each of my maids holds such a special place in my heart, and they were the perfect little team to keep me calm and lighten my spirits.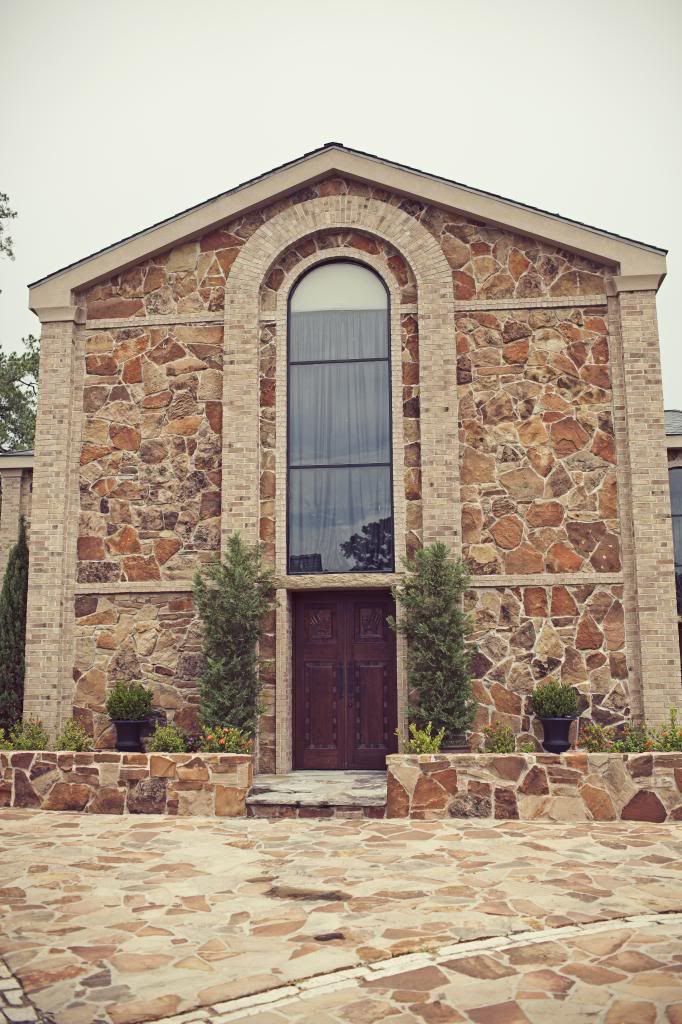 Looking back, it is like everything was moving in slow motion, and God delayed time so that I could absorb the details of my wedding morning. The cottage was locked upon our arrival, so I made a phone call for someone to let us in. One of my bridesmaids' amazing mothers brought breakfast, and we all nibbled on cinnamon crunch bagels and fruit and sipped our coffee and juice. I could barely eat because I was so excited, but I tried. I mean, have you ever had a cinnamon crunch bagel?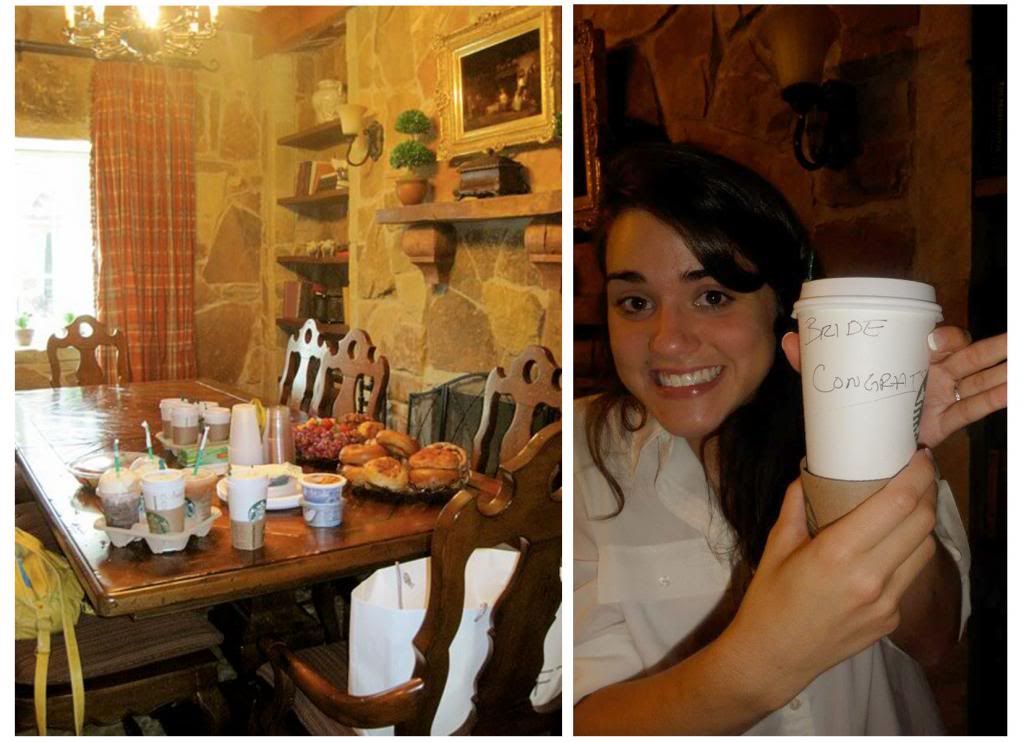 As we took turns playing dress up with the hair stylists, a few of my maids and I took some time to walk around the property, greet the monkeys (yes, I said monkeys) and enjoy the morning. The humid Texas air reminded me of sweet childhood summers, and somehow the looming rain clouds did not phase me.
Rain poured down half way through our walk, and we made a mad dash for the cottage after covering my sister Raegan's already styled hair with a stray plastic bucket. Hilarity ensued and we giggled for the next half hour. My Dad called and was concerned that the rain would be a problem for guests as they entered the chapel. "And the peace of God, which transcends all understanding" (Phil 4:7) guarded my heart; I was too happy to be bothered. I knew God had it under control.
The events started to pick up speed as the hours ticked by. I spent an hour getting my hair done, and it turned out exactly as I hoped. We all did our own makeup, and I felt like a little girl again as we shared eyeshadow and each girl helped the other look her best. I took a few minutes by myself in the bedroom upstairs to gather my thoughts before the photographers arrived and began snapping detail shots.
I decided to get dressed with just my mom and sisters, and that time could not have been sweeter. The dress was perfect. My sisters and my mom are my best friends. The sun was beginning to shine. I was getting married. You could not have wiped the smile off my face if you tried.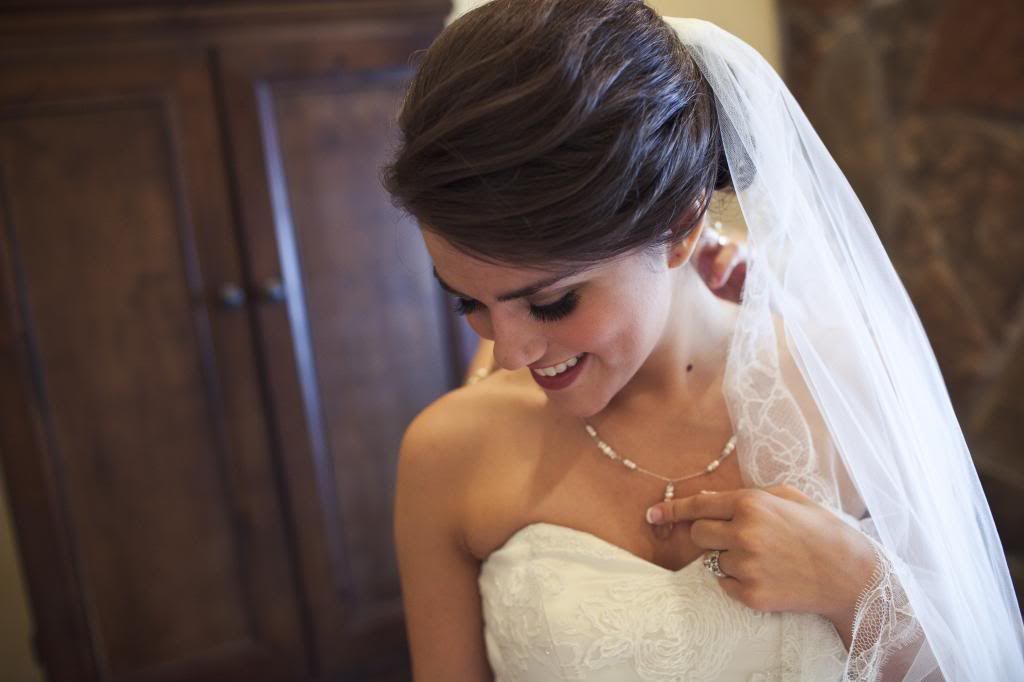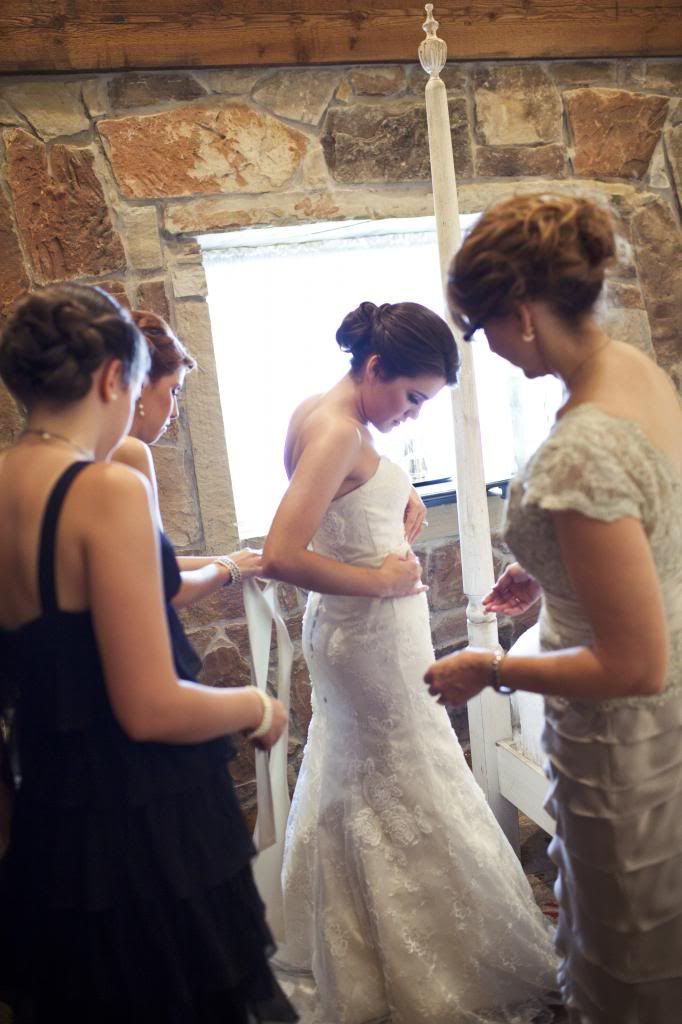 I walked down the little wooden steps to a room filled with my closest friends and twirled around to show off the dress that I said "Yes" to all those months prior. Sweetheart neckline, three dimensional lace detail, tiny sparkly crystals, satin waist band, fit and flare skirt.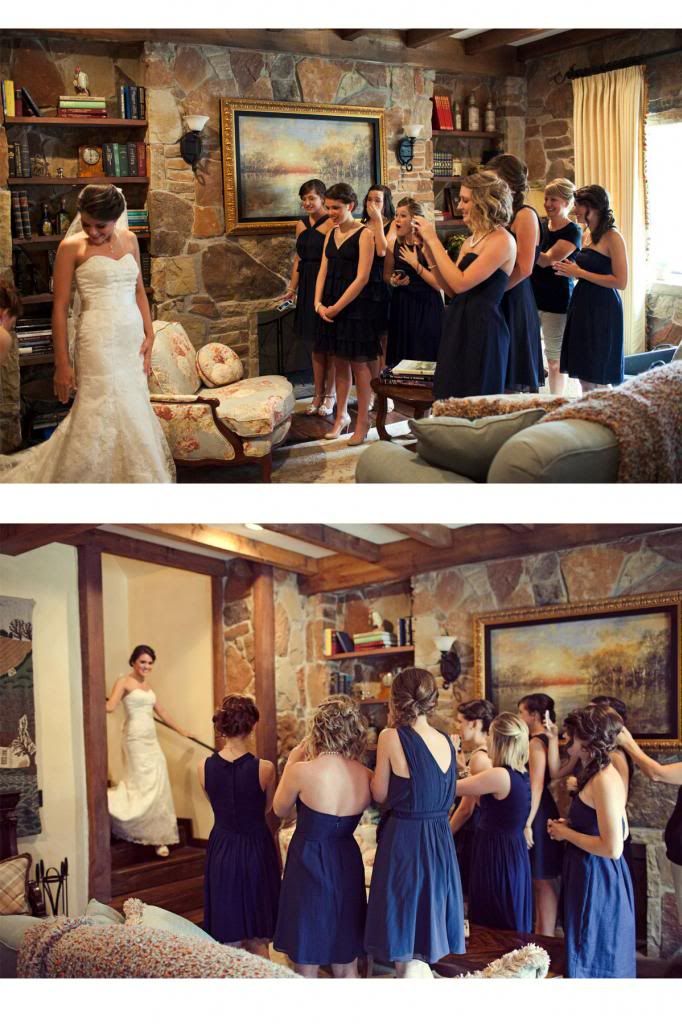 The girls were all dressed in navy, and we each took hold of a beautiful bouquet of coral peonies and white hydrangeas and headed outside to snap group shots.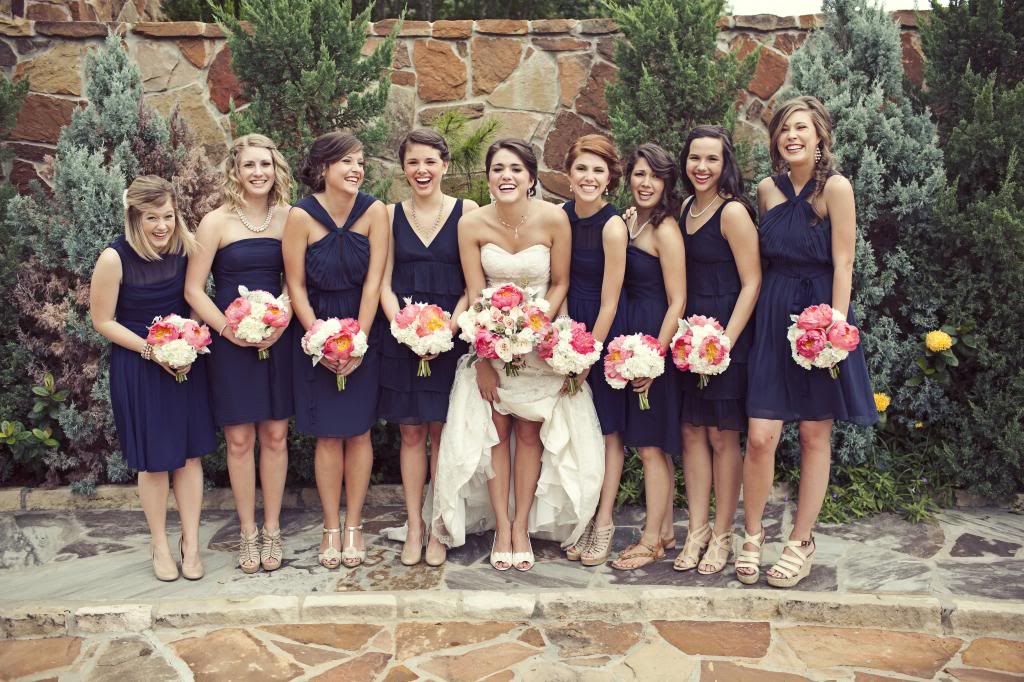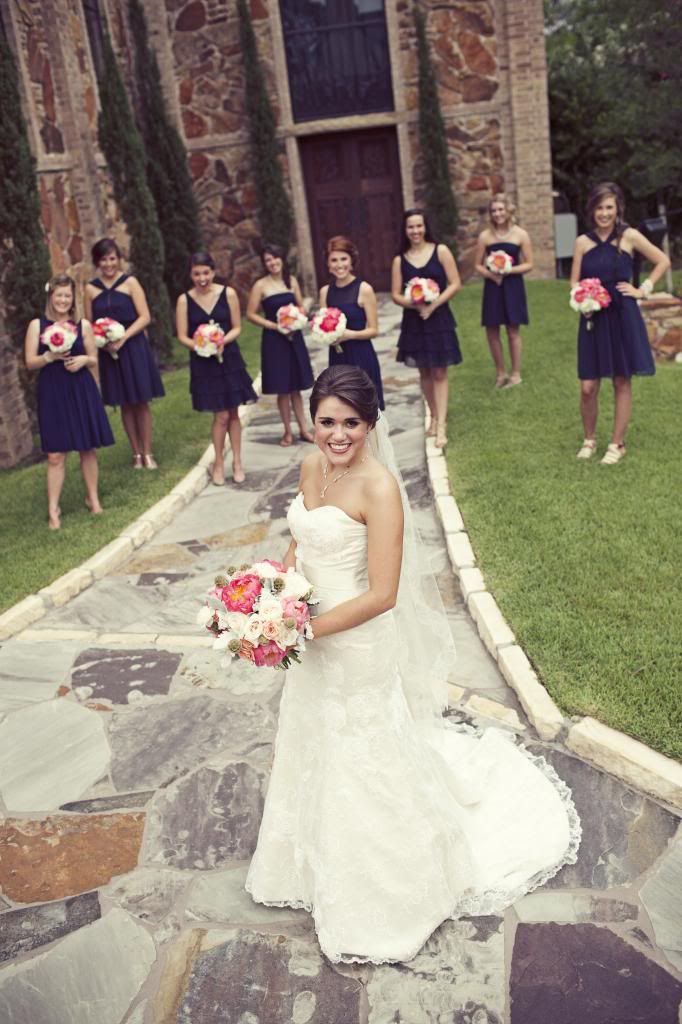 And the men looked pretty good too.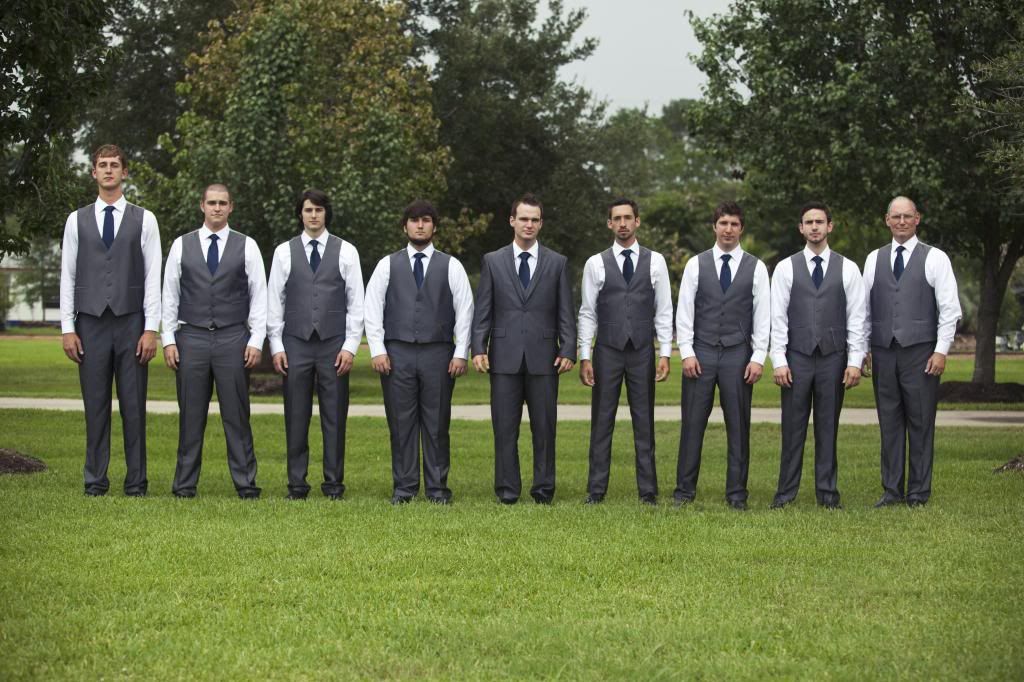 Although Jeremy and I opted not to see each other before the wedding, we decided to pray together at a quaint spot where we could hold hands but not sneak any sort of peek. Well, I saw the back of his head. It looked like it always does. That can be our little secret.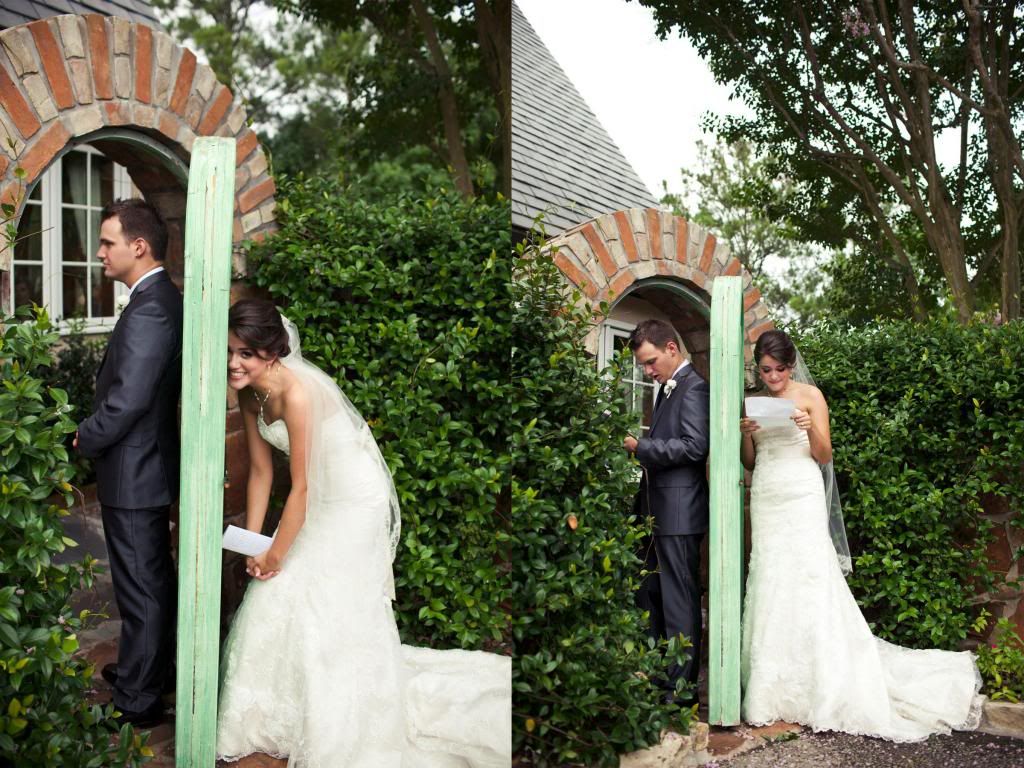 I was so nervous as the photographers positioned us for the big prayer and exchange of letters. I wanted to cry as I read his letter, heard his voice, and let it sink in that I was about to marry this guy. My brain: "SHUT THE [GREEN] DOOR! THIS IS REALLY HAPPENING! HE'S SO AWESOME! LET'S DO THIS THING!"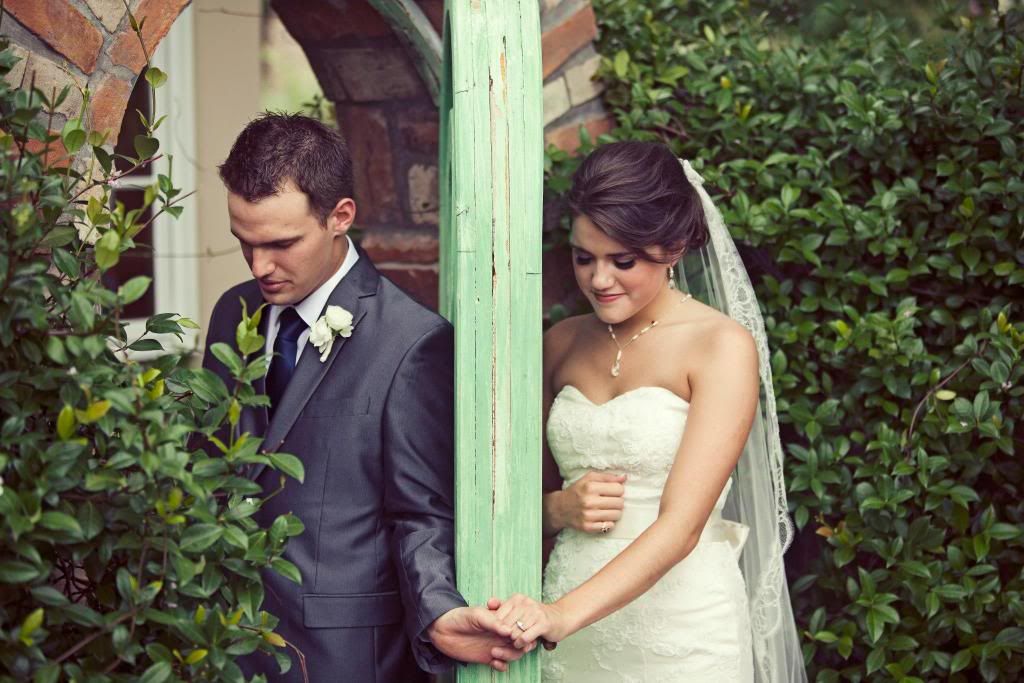 Ahem. Excuse that interjection. As I was saying, that sweet prayer time was lovely--only to be overshadowed by the ceremony that was to follow.
To be continued...
**All the professional photos are courtesy of the amazing Yellow Skinny Photos. Photos from the early morning getting ready are from my various bridesmaids.